Most companies hire Salesforce administration to save costs and time, however, there are other valuable reasons to outsource a Salesforce administrator, and we list seven below.
A Salesforce Admin is your best ally in business development because:
You get the most out of Salesforce, the world's leading customer and lead management tool.
They connect the business' key processes, such as customer generation, marketing, customer service, sales, human resources and IT.
They continuously support your CRM management and apply the best strategies worldwide for Salesforce enhancement.
These are 7 benefits of outsourcing your Salesforce Administration
We have looked at different ways in which an external Salesforce administrator can add value to a company and 7 of them are as follows:
1. Reduced talent turnover
Anyone who has managed IT teams knows that talent turnover is one of the biggest pain points.
A recent study shows that the turnover rate for collaborators with cloud computing skills (such as Salesforce) sits at 42%.
Many companies need Salesforce administrators, consultants, or developers, and they are all competing for expert talent that is not superabundant.
In that race, companies offer career plans, strong cultures, and high compensation, among other strategies to be competitive and retain talent in-house.
Is it possible for you to do this job successfully? Sure it is, but it is exhausting and involves an extensive investment of time and resources. You can delegate this challenge to an allied company that is already an expert in the field and has enough human capital to meet your demands and needs in Salesforce.
By outsourcing Salesforce administrators, you automatically stop running that race and only enjoy the work that this professional can provide.
You don't have to spend more time interviewing, testing, adapting and training professionals. All of that is time saved for you by outsourcing to a Salesforce administrator.
2. You have an assured Salesforce talent provider and permanent maintenance
The good thing about hiring a Salesforce administration partner is that they will most likely be able to meet your demand for Salesforce professionals.
Usually, these companies have a comprehensive team of professionals, from developers, project managers, administrators, consultants and success agents among others. It is an infinite talent pool to implement and enhance Salesforce and your business productivity.
And this team of professionals is permanently at your company's disposal.
3. Save time and reduce waiting time to achieve maximum tool and team productivity
Although Salesforce is a world-class tool, its implementation is not the same in all organizations.
When hiring a tool administrator, it will take a couple of days and sometimes weeks to be involved with your system environment, i.e. how you use fields and automation.
This time to reach maximum productivity is significantly shortened when you hire a professional administrator, vertically familiar with Salesforce, who has optimized and tested processes to match with the tool's architecture effectively.
The onboarding process generally looks like this:
 🏆 The initial meeting where we understand your goals
 🏆 Initial environment audit, where we assign business processes and perform technical analysis.
 🏆 Migrate data (if necessary)
 🏆 We test
 🏆 Deploy
 🏆 Perform ongoing maintenance
We have a robust Salesforce administration process, which allows us to achieve the maximum productivity of the tool and our professionals in the shortest possible time.
4. Using Salesforce to its fullest potential and best practices from an expert
An inexperienced Salesforce administrator may implement the tool with inefficiencies or redundancies or worse, configure it without thinking about scalability.
Salesforce's potential is extremely high, and hiring a professional administrator will set you up for success.
No matter how advanced your Salesforce journey is, a champion administrator will identify opportunities for improvement and constant upgrades to ensure that you always get the most out of the tool and can scale it over time with AI enhancements, for example.
Outsourcing to a partner like Championsys is a synonym for combining industry best practices and tailoring them to your organization's needs.
5. Labor costs reduction
When you hire an in-house Salesforce administrator, you don't just invest time in the process. You also make significant monetary investments to keep them in your company and up to date with all the tool enhancements.
You will end up spending at least 1.25 to 1.5 times the salary on costs from equipment to benefits.
The average annual salary for a Salesforce administrator is around $95,000. So, hiring and retaining an entire internal team of Salesforce administrators could cost your organization hundreds of thousands of dollars a year, without mentioning the legal commitments.
By outsourcing a Salesforce administrator you don't have to worry about those payments or the costs of employing a person directly.
6. You will have a wide variety of training materials and guidance at your disposal, as well as the support of Salesforce certifications
Outsourcing to a certified Salesforce partner provides the security of a professional and supportive company that will be your ally to get to the top.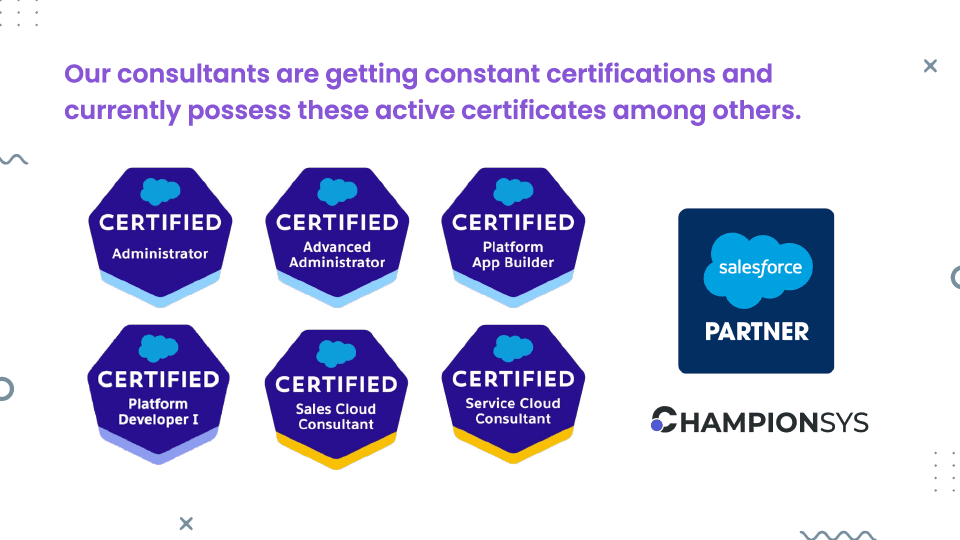 7. You reduce the risk of damage, loss or leakage of internal data and increase the deployment quality
Salesforce management will have access to your company's most valuable asset: data.
This information from your customers is highly sensitive so security protocols must be more rigorous.
By outsourcing Salesforce administration, you will decrease the info damage, loss or disclosure probabilities and avoid conflict of interest with internal collaborators.

Outsourcing Salesforce administration will always be a great strategy to maximize results, in the shortest possible time, with high security and the support of a champion partner company. Let's schedule a free discovery session today to reach the top.