London Tech Week is a premier event in the UK tech industry, bringing together technology enthusiasts, thought leaders, and industry experts from around the globe. With over 500 events held across the capital, offered insights into cutting-edge topics that are shaping the future. In this blog post, we will delve into some of the key themes discussed during London Tech Week and explore how Championsys, a leading technology company, aligns with these topics.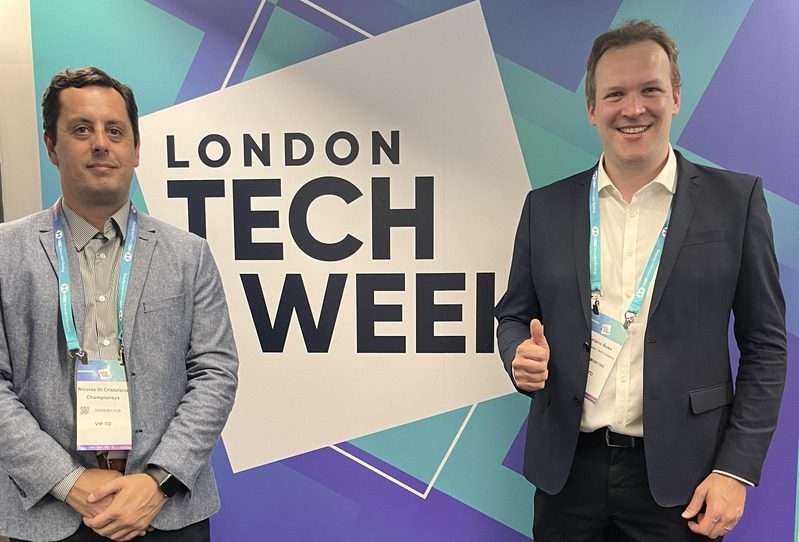 Generative AI:
One of the standout topics at London Tech Week was Generative AI. The potential of AI to generate new ideas, content, and solutions is revolutionizing industries. Championsys with the AI Studio enables businesses to automate processes, optimize decision-making, and unlock new opportunities for growth.
The Power of Tech to Transform the Future:
The event also highlighted the transformative power of technology to reshape various industries. Championsys recognizes the significance of technology in driving digital transformation. With a range of services that include Salesforce implementation, SAP integration, AI and software development, Championsys empowers organizations to embrace the digital era and unlock their full potential. By partnering with Championsys, businesses can navigate the ever-evolving technological landscape and achieve sustainable growth.
Day 1 – London Tech Week 2023 highlights:
Cyber Security:
The importance of Cyber Security was another key focus area during London Tech Week. As organizations increasingly rely on technology, securing their digital assets becomes paramount.
Virtual Communities & The Power of Human Interaction:
Emphasized the significance of virtual communities and the power of human interaction in the digital age. Championsys understands the importance of fostering meaningful connections and enabling collaboration. Through its innovative software solutions and CRM expertise, Championsys helps businesses build strong customer relationships, enhance engagement, and create thriving virtual communities.
Day 2 – London Tech Week 2023 highlights:
Financial Services:
The event also shed light on the intersection of technology and the financial services sector. Championsys offers tailored solutions for the financial industry, enabling organizations to streamline operations, enhance customer experiences, and drive innovation. With deep industry knowledge and expertise, Championsys empowers financial institutions to leverage technology as a competitive advantage in a rapidly changing landscape.
AI Impacting Transport and Health:
Lastly, London Tech Week explored the profound impact of AI on the transport and health sectors. Championsys' development, AI Diagnostics, specializes in utilizing AI for diagnostics in healthcare. By leveraging AI algorithms and advanced analytics, AI Diagnostics helps healthcare providers improve patient outcomes, accelerate diagnoses, and optimize treatment plans.
Day 3 – London Tech Week 2023 highlights:
London Tech Week showcased the remarkable advancements and transformative potential of technology. Championsys, as a leading technology company, aligns with the topics discussed, offering comprehensive solutions in artificial intelligence, digital transformation, cybersecurity, customer relationship management, financial services, and healthcare. Through its innovative approach and expertise, Championsys continues to empower businesses to thrive in the digital era.
Schedule a Discovery Session with an expert